ClearView HDTV Antenna Review. Is the indoor antenna redundant?
This ClearView HDTV Antenna Review will look at the pros and cons of using an indoor antenna against the now conventional cable TV we have all become accustomed too.
When I was a child, there were two types of antenna. One you place at the apex of the building roof. Normally strapped to the chimney or bolted to the eves on the side of the house. These antennas were huge and would require specialist installation unless you were a weekend mountain climber.
Then a second type of antenna was developed. The indoor antenna, it never looked great and in my opinion never really did a great job in picking up analogue transmission signals. The quality of the TV picture was dependent on how close you were located to the main transmitter.
Indoor antenna would often need to adjust every time you change the channel. When talking about changing channels there were only three channels broadcasting.
The use of internal antenna diminished with the invention of color TV. To receive the newly formatted transmission signal you needed the external antenna to obtain a good quality picture.
Therefore, with the history lesson behind us is the indoor antenna redundant. Well, yes and no. There is still a market place for the indoor antenna. There is a trend in these days of austerity to cut expenditure and break away from suppliers of cable TV.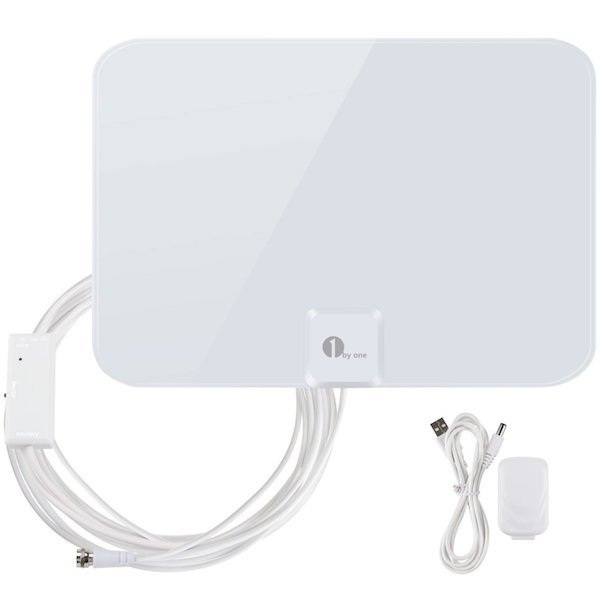 Actually, when you really break down the amount of programs you watch they broadcast on a handful of channels. So if you are not addicted to channel hopping and want to save some cash the ClearView HDTV antenna could be for you.
It comes with 100 plus channels. Even if you do not want to leave your cable supplier this could be the perfect solution for the location of the TV in other rooms.
It is easier to install the ClearView HDTV Antenna than to pay an engineer to visit your property and install splitters. If your spouse or kids want to watch something, different from what is being broadcast on what you would call the main screen then additional expense is required.
Sometimes it can be costly keeping family members happy!
ClearView HDTV Antenna. What other benefits will convince me to change?
This ClearView HDTV Antenna Review will look at all of the benefits you could gain from using the indoor antenna.
This antenna is portable. Living in rented accommodation is one situation you should consider using the ClearView HDTV Antenna. You will not have locked contract giving you flexibility.
What happens if your circumstances change? You meet the love of your life. God forbid you lose your job and you are lock into a contract with a cable supplier. Now you cannot pay and being sued. Your credit rating could affect all because of a contract.
You may have a young family or just you and your spouse and you have a caravan or holiday home used for short period throughout the year. The ClearView HDTV Antenna is the perfect solution for you to keep up with your favorite news channels or TV shows.
How will it fit in to my environment? I remember those ugly unsightly rabbit ear antenna. I do not want to go back to this.
Do not worry, the ClearView Antenna is easy on the eye; no more rabbit ears. ClearView is a flat slim unit that will fit in with your surroundings. Because it receives a HDTV, digital signal there is no constant adjusting for picture quality.
ClearView HDTV Antenna. Nevertheless, I am not good with tools, how about the installation.
You need no special skills to install the ClearView HDTV Antenna. It comes with an easy to follow guide the most difficult procedure will be connecting the coaxial cable!
The product comes with an 11 steps guide that is easy to follow. It explains in details how to fix the antenna. You will receive mounting brackets for fixing.
One thing that is really worth checking is the transmission tower location compared to your location. Digital signals when broadcast have a specific range. Digital signals do not lose any of their information or integrity. However, digital signal are not infinitum. Typically, if you are further than 150 miles from the transmission source you will not receive a picture.
Your retailer should be able give you the information you need unless buying online. You can check online where your transmitter is located.
ClearView HDTV Antenna Advantages:
Low cost one off payment
Clear digital signal in high definition
100 plus free view channels
Easy installation
Guided installation
Minimal tools required
Can use in multiple rooms for independent programs
There are many benefits to the ClearView HDTV Antenna.
ClearView HDTV Antenna Disadvantages:
Self installation
Limited channels
Channels such as HBO and other movie channels need to be signed up for
Transmission location is critical to receiving the signal
Where to purchase the ClearView HDTV Antenna
You can purchase the ClearView HDTV Antenna from multiple locations, including retailers like Wal-Mart. You can purchase online from multiple specialists but I found the best to be this website www.amazon.com.
The cost of the ClearView HDTV Antenna is USD39.95 but please shop around. There are discounts up to 60% off.
Conclusion
In this ClearView HDTV Antenna Review, we have explored some of the pitfalls off using indoor antenna and some of the better features of the ClearView HDTV Antenna.
I asked in the first header if ClearView HDTV Antenna is redundant. My answer is no. It is a valid product having a place in the market.
ClearView HDTV Antenna is a product with great value enabling you the customer to break away from your cable supplier and avoid those monthly bills should you wish.
There are comparable HDTV antennas in the market at a similar price point. Some offer more channels. However, if you are a fan of prime time movies then all the free view boxes will disappoint.
ClearView HDTV Antenna is a good product and considering the discounts on offer, it is exceptional value at around USD20.00.